Syllyac
From LSWiki
Vlekthids eat your mind, but for the melee focused they go down fairly quick. From the drow city go east through the false wall till you get to the eastup. Go north as much as possible, then west, then southwest as much as possible, then southeast... follow that path to the city. (An alternate method: stand outside the entrance to the Loch Nether, and go id, d, 5w, 4n, 3d, 4n, 4d, 6n, w, 5sw. entrance is se.)
Reverse of that alias is: go 5ne, e, 6s, 4u, 4s, 3u, 4s, 5e, u, ou
               X
               |
               X↑
           ~---~
          ↓X
           |
           X
 ~---~     |     ~----~
↓X  ↑X↓-X--X--X-↑X↓   X↓
 |   ~           ~    | 
 |   |    ↓X     |    |
 X   ~     |     ~    X
 |  ↑X--X--X--X--X↑    \
 X         |             X--X--X--X
 |   X--X  |
 X      |  |
        X  |
        |  |
     X--X--X--X
        |  |  |
        X--X--X--X
        |  |
        S  X            *S: the slave's bar 
           |
           X
           |
           X
           |
           X
           |
           X
     \    /
      E--X
     

Map Key
↑ = Exit Up
↓ = Exit Down
~ = Connects up and down exits with their next floor
E = Entrance

Location
Syllyac is located inside Loch Nether.
Spoiler warning: information below includes details, such as solutions to puzzles or quest procedures, that you may prefer to discover on your own.
Guilds and Associations
Quests
Notable Personalities
Places of Interest
Notes
City alignment: Evil/Order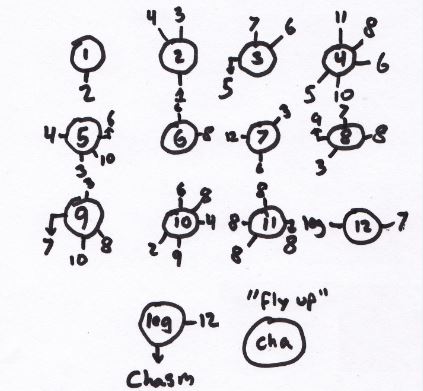 Okay so getting out of here can be a pain, the rooms reset if you take a wrong direction or so it would seem
From the rocky ledge go E, E, NE, D, SE, SW, S, U.
From the Room that only goes n,e go
e,u,s,e,ne,n,e,u,s (examine exits here) --Win 20:28, 2 September 2011 (EDT)
End of spoiler information.
Maps