Hanoma
From LSWiki
Hanoma is a small island found just a stone's throw west of the massive continent that is Almeria. Hanoma may be small, but this island offers a lot more than you might think; you could very well find yourself leaving Hanoma with a new outlook on life.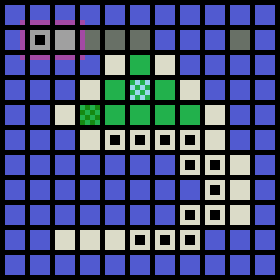 an Adventurer's Guild in the fishing village (2,-4,0) IN
a guard post in the fishing village (0,-4,0) IN
a smithy (2,-3,0) IN
a healer's hut in the fishing village (3,-3,0) IN
a live-in laboratory in the fishing village (3,-2,) IN
a pavilion market in the fishing village (2,-1,0) IN
the Pelican Restaurant in the fishing village (3,-1,0) WI
the White Lotus Tavern (1,0,0) NI
a small temple in the fishing village (-1,0,0) NI
the Aisenshi Dojo (-4,4,1) IN
Location
Hanoma is located just west of Ebiria, and can be reached by going to (-40, 40, 0) in Ebiria (Global: (-121, -41, 0)), and then going west.
Spoiler warning: information below includes details, such as solutions to puzzles or quest procedures, that you may prefer to discover on your own.
Guilds and Associations
Quests
Notable Personalities
Mikuru, head of adventurer's guild (-2, -4, 0)
Notable Attractions
Notes
Guards assist: Entire zone will be aggressive if you attack any of the Hanoman people. That includes Musashi and others. - While this is true, killing Musashi, as long as there are no Hanomans in the room, will NOT make Hanoma aggro you on site.
Entering from Ebiria leaves the player at (5, -5, 0) (southeast corner).
Moving "out" of Hanoma to any direction moves the player back to Ebiria (-40, 40, 0) only the altitude may differ.
Hanoma "airspace" is not as high as the main maps and, if one moves too high, they are pushed back to Ebiria.
Note that Hanoma is not similar grid-map like main maps; e.g. diagonal directions do not work (unless especially added, e.g. to enter some huts). However, coordinates still work.
So I tried (stupidly) to bond with a Hanoman child via spiritual germination. Turns out, the response wasn't like with other non-bondable creatures, which usually had "no emotional resonance"; instead, it told me that our 'needs were mismatched' and we couldn't bond with 'this method of bonding'. So now I'm wondering - what kind of bond is required? Fey doesn't count - you can fey pretty much anything. -Tarikun 01:28, 29 June 2013 (EDT)
End of spoiler information.
Maps
This article is a stub. You can help Lost Souls by expanding it.